2022 - 2023 Registration is Open! Click "registration" on the left panel.
All FSA scores for 3rd – 5th graders are now available in HAC.  Click on "grades" and then "test scores" to view the scores.  Thank you!
Oct. 17 – Teacher Planning Day
Oct. 19 – Picture Re-take Day
Oct. 25 Report Cards available on HAC
Back to School Information
First Day Folder Information
22-23 Supply Lists
Covid-19 Parent Information
Provisional Transportation Waiver Program
The St. Johns County School District Provisional Transportation Waiver Program (PTWP) extends transportation services to students assigned to district schools based on space availability and criteria.
Follow this link to learn more about this program and to access the required application form.
Cafeteria Notes
Meal prices:
Breakfast $1.25
Lunch  $2.80
If a student's lunch account balance is below $0 they are only allowed to purchase a lunch with no extras.  If you would like to keep track of your student's account please sign into Paypams. If you would like to place a restriction on your student's account you may send in a note to your student's teacher, or email the Cafeteria Manager.

Birthday Treat Policy
It is important that we celebrate holidays and students while keeping everyone healthy.  JCE feels strongly that these celebrations are part of the school experience.  If families would like to send birthday treats for the class in honor of their child's birthday, we ask that you send non-food items (i.e.: pencils, stickers, etc.).  Our #1 priority is keeping all of our kids healthy and safe.  If the classroom teacher sponsors a holiday party or other event, he/she will provide a list of food items that can be sent based on classroom allergies.  We appreciate your understanding.
eSchoolPlus Home Access Center (HAC)
HAC allows parents to view their child's educational information, including report cards.  Visit the District Home Access Center (HAC) page to learn more about HAC. Mrs. Karl is available here at JCE to help answer any questions.
Transportation Changes
Parents, if it is necessary to change your student's transportation during school, please fax (547-7985) a note prior to 2:15 pm (1:15 pm on Wednesdays) or you can email Debbie Higbea. Last minute changes are discouraged as they often confuse the student.
** Due to limited capacity we cannot issue guest bus passes. Students may only ride the school bus that they are zoned for.
Free and Reduced Lunch
Parents can complete the online Free and Reduced Lunch application by using this link: https://www.stjohns.k12.fl.us/food/free/
We encourage families to fill out the online application – English or Spanish, but you can also print a form on the same website and return it to school.  Parents should not delay applying to prevent a gap in their student's meal eligibility.
Thank you.
Bike Safety Videos
View grade level appropriate videos which we share with ALL students about the safety of biking.
School Hours
Mon / Tues / Thurs / Fri: 8:25am – 2:45pm
Wed & Early Release: 8:25am – 1:45pm
Extended Day Pre-Pay Punch Cards
Eighteen Fun Filled Visits for $360.00 – only one card needed per family – no registration fees – no commitment – includes snack, drink, and Extended Day scheduled activities. 24 hour reservation required. Available For Purchase Today! Call: 547-7983
Checking Your Child Out Before the End of the Day
Send a note or email to your student's teacher and the front office letting them know your child will be leaving school before the end of the day.  Come into the front office to sign out your child and show your identification.  Early checkouts must be completed:

Dress Code Reminders
Please review the Student Code of Conduct for details on St. Johns County School District's dress code.
Free Pediatric Immunization Clinics
Did you know that your local St. Johns County Health Department provides free pediatric immunizations? For immunization clinic hours call (904) 209-3250.
Do you need assistance?
If you are a person with a disability who needs assistance to attend meetings or activities at Julington Creek Elementary, please call 547-7980 for help.
FortifyFL is a website and app developed at the direction of the Florida Legislature. Any student, educator, parent or member of the public can report school safety concerns directly to law enforcement and school administrators anonymously and easily through the FortifyFL app or getfortifyfl.com.
This is just a reminder that anyone (parent, guardian, friend, neighbor, aunt, uncle) must have school access to attend an event at Julington Creek Elementary School, have lunch with a student and/or attend an awards assembly. If you have not already done so, please complete the School Access Form. The process for approval may take up to 4 weeks, so please fill out the application sooner than later for any guests that would like to have school access. Once the application is approved, school access will be valid for three years.
"Connecting Families to Community Resources" on Oct. 4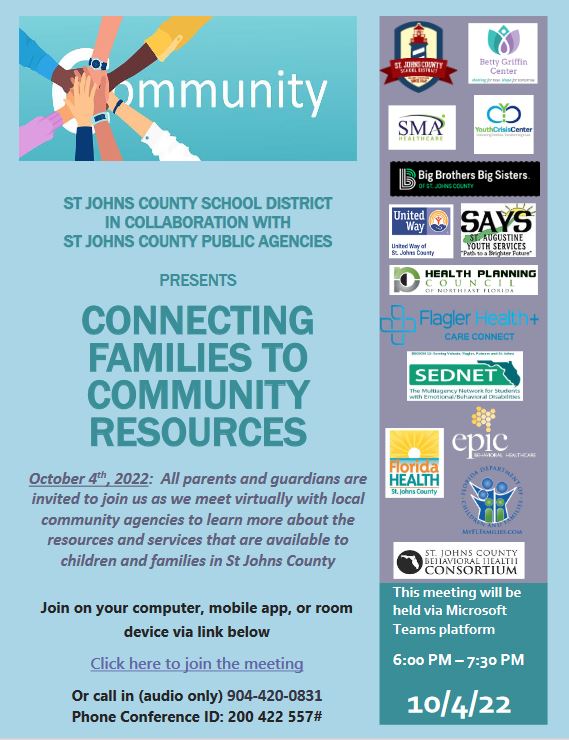 Please join us on October 4, 2022, from 6pm to 7:30pm for a virtual discussion titled "Connecting Families to Community Resources." All parents and guardians are invited to join us as we meet virtually with local community agencies to learn more about the resources and services that are available to children and families in St Johns County.