Leonard's will mail the spring photos to you if you paid for the order and your child sat for a spring photo.
Leonard's is accepting new orders for the Class Photo Online
Yearbooks that were pre-ordered will not be be ready until the very end of the school year.
              More information to follow mid-May
Volunteer Information
If you are interested in volunteering at school or even attending a field trip please make sure you have filled out the School Access Form (Volunteer Form).  We have many volunteer opportunities in and out of the classroom.  When volunteering on campus, please make sure to schedule a time where you are able to leave the little ones (babies or young children not registered at JCE) at home.   We will absolutely keep you busy and want to ensure the children's safety.  If you have any questions, please contact Debbie Higbea, our volunteer coordinator.

PTO Member Discounts
Please check out the amazing discounts and benefits offered to our PTO members by our JCE PTO Business Partners.
Provisional Transportation Waiver Program
The St. Johns County School District Provisional Transportation Waiver Program (PTWP) extends transportation services to students assigned to district schools based on space availability and criteria.
Follow this link to learn more about this program and to access the required application form.
Free School Meals while Schools are Closed
The Florida Department of Agriculture and Consumers Services and USDA have approved meal service during the time of unanticipated school closures. This program focuses on areas of eligibility based on economic need. For meal service locations, please refer to the website, www.summerbreakspot.org.
Cafeteria Notes
Meal prices:
Breakfast $1.25
Lunch  $2.80

If a student's lunch account balance is below $0 they are only allowed to purchase a lunch with no extras.  If you would like to keep track of your student's account please sign into SchoolPay.com. If you would like to place a restriction on your student's account you may send in a note to your student's teacher, or email the Cafeteria Manager.
eSchoolPlus Home Access Center (HAC)
For online access to a student's grades, parents need to complete the form and return it to our front office staff. Once returned, access information will be given to your child within three school days. Learn more about eSchoolPlus and Home Access Center (HAC). You can also check the district web site for more information. Mrs. Karl is available here at JCE to help answer any questions.
Extended Day Pre-Pay Punch Cards
Eighteen Fun Filled Visits for $360.00 – only one card needed per family – no registration fees – no commitment – includes snack, drink, and Extended Day scheduled activities. 24 hour reservation required. Available For Purchase Today! Call: 547-7983
Transportation Changes
Parents, if it is necessary to change your student's transportation during school, please fax (547-7985) a note prior to 2:15 pm (1:15 pm on Wednesdays) or you can email Debbie Higbea. Last minute changes are discouraged as they often confuse the student.
** Due to limited capacity we cannot issue guest bus passes. Students may only ride the school bus that they are zoned for.
Bike Safety Videos
View grade level appropriate videos which we share with ALL students about the safety of biking.
School Hours
Mon / Tues / Thurs / Fri: 8:25am – 2:45pm
Wed & Early Release: 8:25am – 1:45pm
New to Julington Creek Elementary?
Maria Chrissovergis, New Family Liaison, can help you with questions or concerns. Visit our Welcome page for more information and be sure to check out our informative newsletters just for newcomers. Thank you!
Checking Your Child Out Before the End of the Day
Send a note or email to your student's teacher and the front office letting them know your child will be leaving school before the end of the day.  Come into the front office to sign out your child and show your identification.  Early checkouts must be completed:

Dress Code Reminders
Please review the Student Code of Conduct for details on St. Johns County School District's dress code.
For Parents of Students with Disabilities
Your child may be eligible for the McKay Scholarship Program for Students with Disabilities. For more information, please view our school district's ESE School Choice Options & McKay Scholarship Information.
ESE Spring 2020 flyer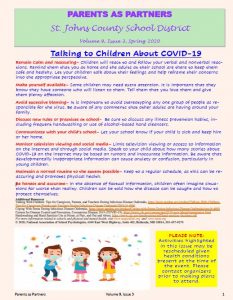 Free Pediatric Immunization Clinics
Did you know that your local St. Johns County Health Department provides free pediatric immunizations? For immunization clinic hours call (904) 209-3250.
Do you need assistance?
If you are a person with a disability who needs assistance to attend meetings or activities at Julington Creek Elementary, please call 547-7980 for help.
District-Wide Registration
Registration for the 2020-2021 school year will begin on March 2nd.
New Students
District-wide registration for the 2020-2021 school year will begin on March 2nd. Starting on that date, you will be able to click the Register My Child For School button on our school website to complete an online registration form for your child.
Returning Students
Returning Student Verification email forms (snapcodes) will begin sending on Wednesday, April 29, 2020. Please note: you may receive your children's snapcodes on different dates, depending on student grade level and the school each child attends.
Current 6th grade students: Snapcodes for all 6th grade students will be sent at a later date due to the tdap vaccination requirement. If your 6th grade student is up to date with all immunizations, including the tdap immunization, and you have an updated copy of their HRS 680 immunization form, you can email [email protected] to request your child's snapcode. Otherwise, all 6th grade snapcodes be sent in the next few weeks.
FortifyFL is a website and app developed at the direction of the Florida Legislature. Any student, educator, parent or member of the public can report school safety concerns directly to law enforcement and school administrators anonymously and easily through the FortifyFL app or getfortifyfl.com.
This is just a reminder that anyone (parent, guardian, friend, neighbor, aunt, uncle) must have school access to attend an event at Julington Creek Elementary School, have lunch with a student and/or attend an awards assembly. If you have not already done so, please complete the School Access Form. The process for approval may take up to 4 weeks, so please fill out the application sooner than later for any guests that would like to have school access. Once the application is approved, school access will be valid for three years.
Distance Learning Will Continue Through the End of the School Year
Dear SJCSD Parents and Guardians,
Governor DeSantis announced in a press conference on Saturday, April 18th, that all districts will continue distance learning through the remainder of the school year. We remain committed and dedicated to helping your children attain success and finish strong in this virtual environment.
Thank you for you continued support, patience and understanding.