FSA scores are available in HAC. If you would like a copy of your child's FSA Score Reports, please contact Abra Murrell at [email protected] – Thank you!
12/7 Chick-fil-a night (mention JCE)
12/14 SAC Mtg. at 3:30 p.m.
12/22 – 1/4 Winter Break
1/5 Teacher Planning Day- no school
1/10-12 Battle of the Books tryouts
Thank you for participating in the JCE Angel tree program. This program benefits families that need some support during the hoiday season. If you would like to participate, begin by selecting the gift that you would like to purchase. Wrap the gift(s) and attach a sticky note with the family letter and the gift that you purchased. Please bring the gift(s) to JCE and place them under the tree by December 15th. If you have any questions, please contact Mrs. Milite in Guidance. Thank you all for your generous support!
Scroll to the bottom of this page to view school supply lists for the 2021-2022 school year.  .
Covid-19 Parent Information
Back to School Information
First Day Folder Information
School Hours
Mon / Tues / Thurs / Fri: 8:25am – 2:45pm
Wed & Early Release: 8:25am – 1:45pm
Extended Day Pre-Pay Punch Cards
Eighteen Fun Filled Visits for $360.00 – only one card needed per family – no registration fees – no commitment – includes snack, drink, and Extended Day scheduled activities. 24 hour reservation required. Available For Purchase Today! Call: 547-7983
Checking Your Child Out Before the End of the Day
Send a note or email to your student's teacher and the front office letting them know your child will be leaving school before the end of the day.  Come into the front office to sign out your child and show your identification.  Early checkouts must be completed:

Dress Code Reminders
Please review the Student Code of Conduct for details on St. Johns County School District's dress code.
For Parents of Students with Disabilities
Your child may be eligible for the McKay Scholarship Program for Students with Disabilities. For more information, please view our school district's ESE School Choice Options & McKay Scholarship Information.
ESE Spring 2020 flyer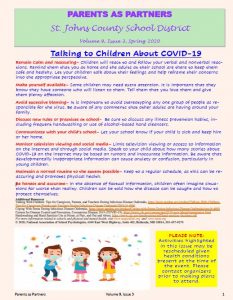 Free Pediatric Immunization Clinics
Did you know that your local St. Johns County Health Department provides free pediatric immunizations? For immunization clinic hours call (904) 209-3250.
Do you need assistance?
If you are a person with a disability who needs assistance to attend meetings or activities at Julington Creek Elementary, please call 547-7980 for help.
FortifyFL is a website and app developed at the direction of the Florida Legislature. Any student, educator, parent or member of the public can report school safety concerns directly to law enforcement and school administrators anonymously and easily through the FortifyFL app or getfortifyfl.com.
This is just a reminder that anyone (parent, guardian, friend, neighbor, aunt, uncle) must have school access to attend an event at Julington Creek Elementary School, have lunch with a student and/or attend an awards assembly. If you have not already done so, please complete the School Access Form. The process for approval may take up to 4 weeks, so please fill out the application sooner than later for any guests that would like to have school access. Once the application is approved, school access will be valid for three years.
2021-2022 Instructional Materials Adoption for Mathematics
The St. Johns County School District curriculum department formally announces the review process for the 2021-2022 Instructional Materials Adoption for Mathematics. The core resources that have been submitted for evaluation have come from the state adoption bid list and other submitted resources from publishers when available. Additional resources for advanced programs may be reviewed from materials listed as appropriate for the program indicated.
Please visit the instructional materials website to view the resources that are being considered for adoption. If you would like access to any available printed materials or require assistance reviewing the online resources, please call the Instructional Resources and Media Services office at 904.547.3947. Materials are available for review from 8:30 a.m. - 4:30 p.m.
We encourage parent and community participation in our adoption process. If you would like to serve on a school committee and formally review the resources as a part of the school review team, please contact any school or our office at 904.547.3947.
To learn more about the policies and procedures for textbook adoption, visit the Florida Department of Education Instructional Materials Website.
B.E.S.T. Standards Presentation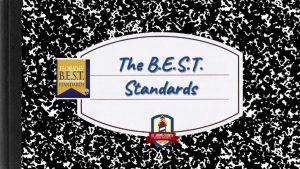 The purpose of the video is to provide parents and community members with information about the new B.E.S.T. Standards for English Language Arts and math. The video also explains the timeline for the implementation of the new standards.
View the B.E.S.T. Standards Presentation