Apr. 12 Grade 4 FSA Writing
Apr. 19 Report Cards available on HAC
Aprl 19 – 20 Grade 3 FSA Reading Session 1 & 2
Apr. 30 JCE Variety Show Streamed
School Hours
Mon / Tues / Thurs / Fri: 8:25am – 2:45pm
Wed & Early Release: 8:25am – 1:45pm
Extended Day Pre-Pay Punch Cards
Eighteen Fun Filled Visits for $360.00 – only one card needed per family – no registration fees – no commitment – includes snack, drink, and Extended Day scheduled activities. 24 hour reservation required. Available For Purchase Today! Call: 547-7983
Checking Your Child Out Before the End of the Day
Send a note or email to your student's teacher and the front office letting them know your child will be leaving school before the end of the day.  Come into the front office to sign out your child and show your identification.  Early checkouts must be completed:

Dress Code Reminders
Please review the Student Code of Conduct for details on St. Johns County School District's dress code.
For Parents of Students with Disabilities
Your child may be eligible for the McKay Scholarship Program for Students with Disabilities. For more information, please view our school district's ESE School Choice Options & McKay Scholarship Information.
ESE Spring 2020 flyer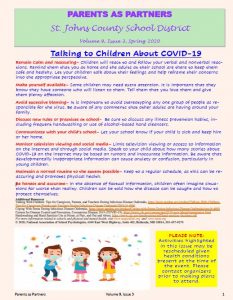 Free Pediatric Immunization Clinics
Did you know that your local St. Johns County Health Department provides free pediatric immunizations? For immunization clinic hours call (904) 209-3250.
Do you need assistance?
If you are a person with a disability who needs assistance to attend meetings or activities at Julington Creek Elementary, please call 547-7980 for help.
FortifyFL is a website and app developed at the direction of the Florida Legislature. Any student, educator, parent or member of the public can report school safety concerns directly to law enforcement and school administrators anonymously and easily through the FortifyFL app or getfortifyfl.com.
This is just a reminder that anyone (parent, guardian, friend, neighbor, aunt, uncle) must have school access to attend an event at Julington Creek Elementary School, have lunch with a student and/or attend an awards assembly. If you have not already done so, please complete the School Access Form. The process for approval may take up to 4 weeks, so please fill out the application sooner than later for any guests that would like to have school access. Once the application is approved, school access will be valid for three years.
FAQ for Emergency Order 2021-EO-02 (Spring 2021 Assessments, Promotion, Retention, Graduation, VPK)
The SJCSD Guidance Department has provided an FAQ to answer common questions about Executive Order Number 2021-EO-02 which was recently issued by the Florida Department of Education. The FAQ discusses the impact Executive Order 2021-EO-02 will have on assessments, promotion, retention, graduation, and VPK.